Nicole Kidman and Reese Witherspoon Are Thick as Thieves at the Gotham Awards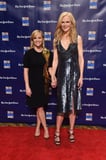 Nicole Kidman had the support of Big Little Lies costar Reese Witherspoon at the Gotham Independent Film Awards in NYC on Monday night. Nicole, who is clearly having a better year than most of us, dazzled in a sparkly dress as she and Reese showed off their sweet chemistry on the red carpet. Nicole was honored with the actress tribute award for her contributions to the film industry and joined the ranks of past winners like Helen Mirren and Tilda Swinton.
Nicole and Reese's girls' night out comes a couple of weeks after Nicole was honored at Glamour's Women of the Year Awards and a few days after Reese accompanied 18-year-old daughter Ava to her first-ever Bal des Débutantes in Paris. We're still waiting to hear if season two of Big Little Lies is a go, but hopefully Nicole and Reese's cute outing will hold you over until then.

Source: popsugar
Nicole Kidman and Reese Witherspoon Are Thick as Thieves at the Gotham Awards